Construction Safety Net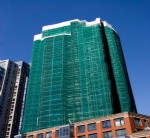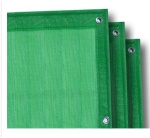 Product name : Construction Safety Net
Scaffold Netting is also called "safety netting" and "construction safety netting" ,used in security and
protection of the constructs preventing the high level brick and stone falling ,manufactured from high density
polyethylene monofilaments. The scaffold netting can be rolled or pieces. Pieces can be with webbing extra
reinforcement, and eyelets at close intervals of 50cm.
Material: high-density polyethylene (HDPE) and UV
Length
50m, 100m, etc. in rolls or in sheet or other size
Width
Any size is available for width below 6 meter.(1.8m,2.4m,3.6m etc.)
Weight
55g/m2 up to 250g/m2
Service
life
3 years to 10 years with different UV protection
Color
Any color is available ( Dark green, Black, Green, Blue are common colors)
Scaffolding Netting is a lightweight HDPE debris netting designed to protect workers and pedestrians
walking near the base of a scaffolding structure.
Sheets are usually packaged in 5pcs,10pcs, or 20 pcs/bundle;
Rolls are usually packaged in 50, 100 or 200m/roll.
Related Products :